Industry leading services
Maybe it's our company culture. Or maybe we're just slightly obsessive. The point is that where an industry standard exists, we'll set out not just to achieve it, but exceed it. And in this respect, we've done rather well, as our many awards bear out.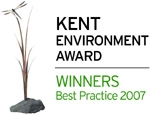 Kent Environment Awards – Environmental Business of the Year
These awards promote environmental best practice and recognise Kent businesses that demonstrate environmental innovation, limit their impact on the local environment and follow good environmental practice.
---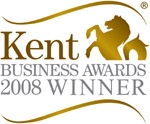 Kent Business Awards – Best New Business 2008
The prestigious Kent Business Awards recognise the brightest and the best in Kent business. Organised and supported by a number of the county's leading organisations which have a desire to recognise best practice, innovative business processes, and overall business success, the Kent Business Awards are firmly established as a benchmark for excellence in today's competitive business environment.
---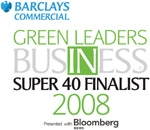 Green Leaders in Business - Finalist
These Awards recognise UK's top 12 innovative green companies who are using pioneering processes or new sustainable technology, products or services to help beat climate change and, crucially, boost their own profits. To mark their success in a unique and memorable way, the 12 National Finalist's are featured in a limited edition book. This book was sent to government heads and influential figures around the world, to show how British business is leading the way in a new industrial revolution – one that promises to protect and preserve our planet.
---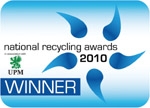 National Recycling Awards - Winner
These annual awards continue to reward and support the efforts of local authorities and the waste management industry and demonstrate the importance of recycling and waste management achievements in all aspects of business. Sweeep Kuusakoski was selected from almost 600 companies for demonstrating outstanding quality, innovation and best practice throughout their entry.
---

Awards for Excellence - Recycling Business of the Year 2011
The eighth annual awards honoured a range of achievements across the industry, covering areas such as innovation and design in waste management, and success in recycling and reuse. This year also saw the inaugural Recycling Business of the Year Award. Waste electrical and electronic equipment recycling specialist SWEEEP Kuusakoski bagged the first ever Recycling Business of the Year Award for its on-going investment and developments in the waste electrical and electronic equipment recycling sector.
---