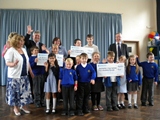 12,000 students recycle WEEE
10 July 2012
Schools recycling race is down to the wire
More than 12,000 young people joined the challenge to see which school could collect the largest amount of waste electrical and electronic equipment (WEEE) during the school year.
Linked to the national curriculum, the "WEEE Free" Week project was offered to every school in Medway last autumn, including pre-schools and infants schools, in a bid to raise awareness of how to correctly dispose of waste electrical and electronic equipment.
The competition was run in partnership between Medway Council, SWEEEP Kuusakoski, and Veolia Environmental Services. Each school was provided with a bright pink skip for one week, which became the collecting point for everything from old computers and mobile phones to kettles and battery powered toys. A total of 33 schools have now managed to collect more than 24 tonnes of electric and electronic waste between them.
The competition has resulted in a tie between two schools, as each has recycled exactly the same amount per head. These were Featherby Infant and Nursery School and Silverbank Park who managed to collect 9.88kg of electrical waste per student.
Both schools will receive £500 from Veolia and a tour of the SWEEEP (Specialist Waste Electrical and Electronic Equipment Processor) factory, where all collected materials are recycled.
Sherwin Knight Infant School have won the £300 second prize for recycling 6.57kg per head, with the £200 third prize going to St James' CE Voluntary Aided Primary School for collecting 6.29kg per head.
Medway Council's Portfolio Holder for Community Services Cllr Phil Filmer said: "I'd like to congratulate the winning schools for their excellent efforts. This project is the first of its kind in the south east and I hope it will help us to continue to raise awareness among all ages about the importance of disposing of electronic waste responsibly."
Contracts Manager SWEEEP Kuusakoski Justin Greenaway added: "Every school involved with this needs a pat on the back as their enthusiasm has been terrific. The raw materials from waste electronics are a valued commodity containing numerous rare earth metals. Diverting 24 tonnes of waste that could otherwise have gone to landfill is to be commended".
Clement Gaubert, Veolia Environmental Services' WEEE Scheme Manager, "We have worked with SWEEEP Kuusakoski and Medway Council on WEEE recycling for a number of years and were delighted to sponsor the WEEE Free Week competition, which has been a fantastic success. We would like to congratulate the winning schools and thank all those who took part and also encourage Medway residents to recycle old electrical appliances at their local Household Waste and Recycling Centres or small WEEE bring banks."
© 2012