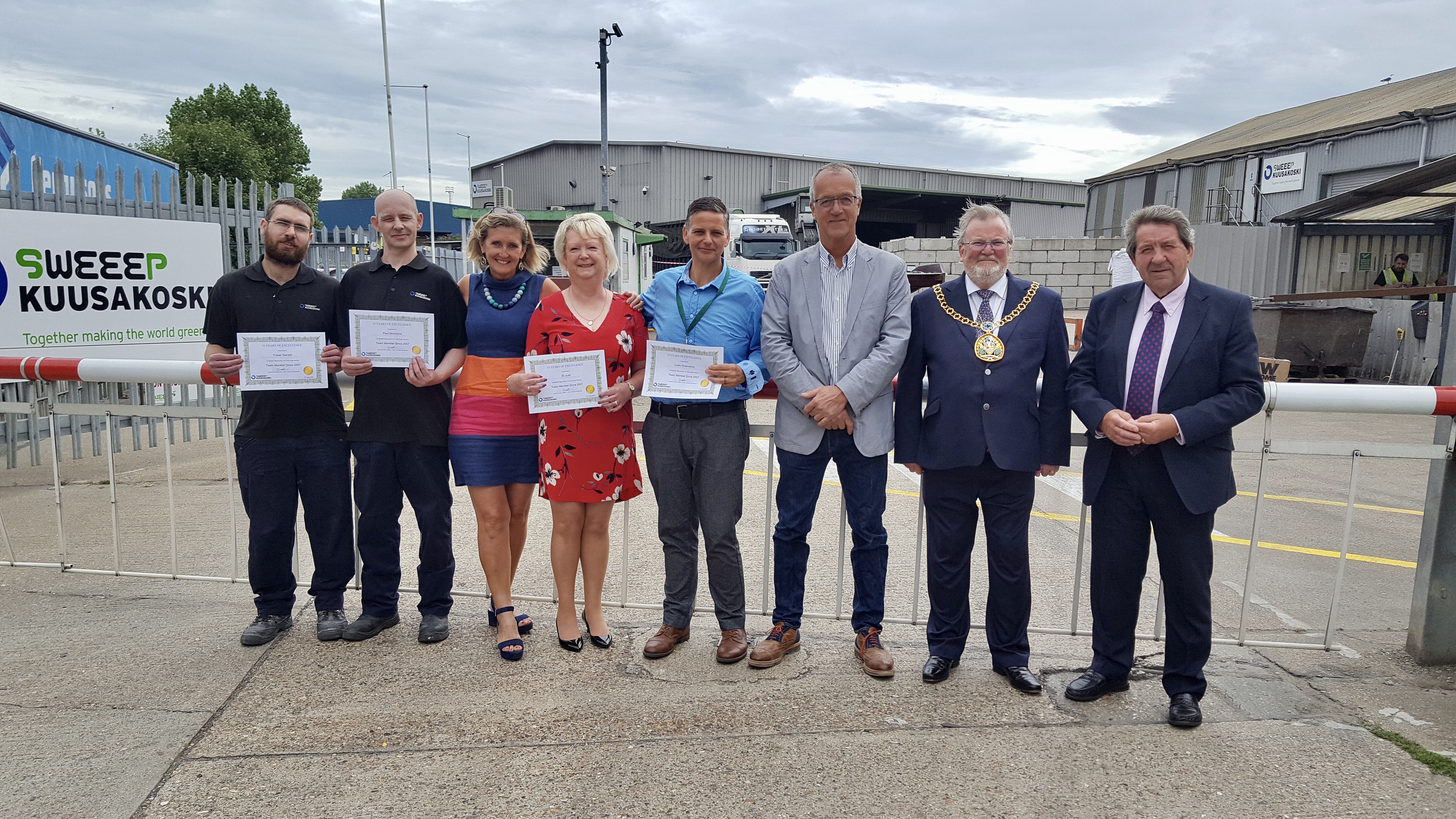 10th Anniversary of SWEEEP Kuusakoski
11 July 2017
With 10 years now under their recycling belt, time has 'swept' by for Sittingbourne based waste electronics recycler, SWEEEP Kuusakoski. A celebration of this milestone took place on Tuesday 11th July, with Sittingbourne and Sheppey Conservative MP Gordon Henderson joining them exactly 10 years after his first visit in 2007.
Gordon said "I am delighted to join with the management and staff of SWEEEP Kuusakoski in celebrating the 10th anniversary of the recycling plant's opening. It seems like only yesterday that I was privileged to be able to witness the new machinery that had been installed. SWEEEP is one of Sittingbourne's employment success stories and I am proud to have been able to give the company my support during my time as Member of Parliament."
Pam and Patrick Watts initial investment of £5M created one of the most sophisticated and environmentally robust recycling facilities in Europe. Starting with just 40 staff in July 2007 SWEEEP Kuusakoski now employ 170 full-time. This direct reflection of the huge increase of electronics now being recycled under the EU WEEE Directive, has seen the company grow from recycling the same volume now per month, as they did in their entire first year. Overall this equates to a hair raising 340 million hair dryers!
Cllr Colin Prescott, Mayor of the Borough of Swale presented long service awards to Fraser Daniels, Justin Greenaway, Diane Judd and Paul Strickland who have given 10 year's service to the organisation saying "It is a pleasure to be here and help celebrate the 10th anniversary of this excellent company. This is just the sort of business that swale needs; innovative, environmentally aware for the 21st century and forward looking with excellent management"
Patrick Watts founder of the company, said "It's 10 years since the introduction of the WEEE directive in the UK and 10 years of Sweeep leading the way on best available treatment, compliance and efficiency. Our dedicated team has grown, as have our skills, to recycle this ever growing hazardous waste stream that returns so much back into new products.
Well done to Sweeep!
© 2017